Garden Design Suggestions
Here is a list of design ideas and considerations to take into account when planning your garden. Don't worry if you cannot draft. Get paper and pencil (do it on the computer if you can) and sketch out where things will go and construct a basic layout. As you start to envision the design, you can add the ideas to your drawing. Use pencil (with an eraser) so you can try out lots of different ideas.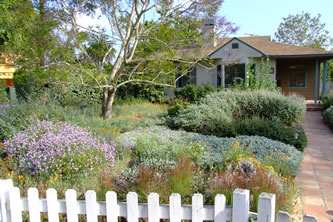 1. Create a meadow: Since the space that was just vacated by the lawn is already meadow- like, simply turn it into a water efficient meadow. You can accomplish this by selecting a predominate ground cover to fill the space and then use additional plants to accent the ground cover. If the area is large enough, you can do several meadow-like areas with different ground covers.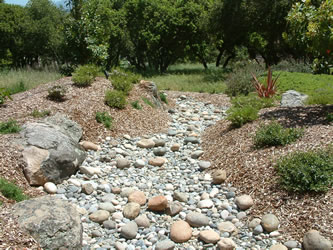 2. Create a rock catch basin and dry creek bed: Bringing stone into the garden gives the space a natural effect and strength. The old lawn area might be a great place for a rock catch basin and dry creek bed. You can add plants around the edges or even intersperse them among the rocks. This creates beauty and function but also collects rainwater to recharge the groundwater.